News
Busted unveil lead single from Night Driver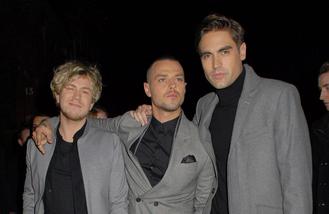 Busted have dropped lead single 'On What You're On' from their new LP 'Night Driver'.
The reunited pop rock trio - comprised of Charlie Simpson, James Bourne and Matt Willis - teamed up with Charli XCX producer Alex Metric for the track, which features on their first record in 13 years.
Of the song, frontman Charlie said, "We can't wait for people to hear this song and be able to share what we have been working so hard on for the past twelve months."
The 31-year-old star - who quit the rock/pop group in 2005 and previously vowed never to return - previously said that the album is a "reflection" of themselves now.
He said: "On this record, we're older, we've had completely different experiences than what we'd have been talking about ten years ago. It's an authentic reflection of who we are today."
While guitarist James recently admitted they were "worried" it would come across "too throwback".
He said: "I'm actually pleasantly surprised to hear you say it sounds current, because I was worried it sounded too throwback."
The 'Coming Home' band have also shared how they were influenced by chart-topping electronic producers Skrillex and Diplo for the new LP.
Charlie said: "We've all been talking about loving stuff that Skrillex and Diplo and what those guys have been doing, but it wasn't really like, 'Oh we want to sound like that'. Maybe that's what makes it sound like it's modern because we've taken influences from stuff that isn't what we used to be like, but what we enjoy listening to."
The trio's next record will see them ditch the guitars and head in an electronic direction.
'Nigh Driver' is out on November 11.
Night Driver track-listing:
1. Coming Home
2. Night Driver
3. On What You're On
4. New York
5. Thinking Of You
6. Without It
7. One Of A Kind
8. I Will Break Your Heart
9. Kids With Computers
10. Easy
11. Out Of Our Minds
12. Those Days Are Gone
Source: www.msn.com
Added automatically
1304 views