News
Jussie Smollett: 'Mariah is a professional diva!'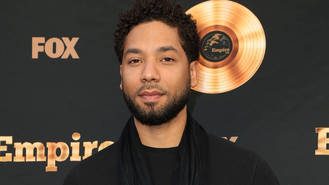 Mariah Carey impressed her Empire co-star Jussie Smollett by being both professional and a diva.
Mariah has always had a reputation for being high maintenance, with reports suggesting her tour rider has previously stipulated 20 white kittens, 100 doves and a pink podium be placed in her dressing room.
The Baby Doll singer does little to dispel these rumours, and even actively encourages them. She recently uploaded a series of indulgent bath selfies to her Instagram account, which showed the star covered in bubbles and dripping in diamonds.
The One Sweet Day star is making a cameo on hit show Empire, popping up as Kitty in a season three episode set to air in October (16).
"It was a dream come true!" Jussie grinned to Us Weekly. "She was super cool. She chilled with everybody on set. Don't get me wrong, she's a diva, but she's professional."
Kitty (Mariah Carey) ends up counselling Jamal Lyon (Jussie Smollett) on his fractured family, played by Taraji P. Henson and Terrence Howard in the music-based series.
"For me, a memory that's even stronger is being in the recording studio with Mariah. She landed at 1 a.m., came straight to the studio at 1:45 and vocally produced me. That s**t was hot!" he added.
Taye Diggs and rappers Romeo Miller and French Montana will also be guest starring in the new series.
Since the show began in 2015, it's quickly become one of the most talked about programmes on TV, bagging a Golden Globe and Critics Choice Award for Taraji.
"The crew is always grooving along," Jussie said of filming the series. "The cast will sometimes come and watch, even if they're not in the scene. Performing music live — to me, that's the payoff."
Source: www.msn.com
Added automatically
623 views