News
David Bowie's final songs to be released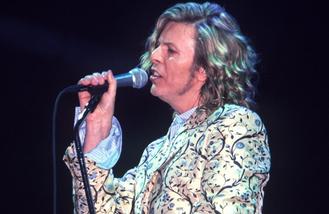 David Bowie's final three songs are to be released.
The late music legend's unheard tracks 'No Plan', 'Killing A Little Time' and 'When I Met You' will be included on a new album alongside the cast and band of the original New York production of Bowie's musical 'Lazarus', who will release their versions of his songs from the show.
The three unheard studio recordings were co-produced by Bowie and Tony Visconti and recorded with Donny McCaslin and his quartet, the same band that played on Bowie's final LP 'Blackstar'.
Fans will also receive the original version of 'Lazarus' along with the cast album.
Meanwhile, the 2016 Mercury Prize Awards Show will feature a special performance from 'Lazarus' as a tribute to the late star, who tragically died in January at the age of 69 from cancer
Michael C. Hall - the main performer in the forthcoming theatre production - will do a rendition of the song from the late music legend's final LP 'Blackstar' backed by the house band at the ceremony held on September 15 at the Eventim Apollo Hammersmith.
The 'Space Oddity' hitmaker has posthumously been nominated for a third time having previously been up for the prestigious Mercury Prize in 2002 for 'Heathen' and in 2013 for 'The Next Day'.
'Lazarus' tracklisting
CD 1:
1. 'Hello Mary Lou (Goodbye Heart)' - Ricky Nelson
2.'Lazarus - Michael C. Hall & Original New York Cast of Lazarus
3. ' It's No Game' - Michael C. Hall, Lynn Craig & Original New York Cast of Lazarus
4.'This Is Not America' - Sophia Anne Caruso & Original New York Cast of Lazarus
5.'The Man Who Sold The World' - Charlie Pollack
6. 'No Plan' - Sophia Anne Caruso
7.'Love Is Lost' - Michael Esper & Original New York Cast of Lazarus
8.'Changes' - Cristin Milioti & Original New York Cast of Lazarus
9.'Where Are We Now' - Michael C. Hall & Original New York Cast of Lazarus
10. 'Absolute Beginners' - Michael C. Hall, Cristin Milioti, Michael Esper, Sophia Anne Caruso, Krystina Alabado & Original New York Cast of Lazarus
11. ' Dirty Boys' - Michael Esper
12. 'Killing A Little Time' - Michael C. Hall
13. 'Life On Mars' - Sophia Anne Caruso
14. 'All The Young Dudes' - Nicholas Christopher, Lynn Craig, Michael Esper, Sophia Anne Caruso & Original New York Cast of Lazarus
15. 'Sound And Vision' - David Bowie
16. 'Always Crashing in the Same Car' - Cristin Militia
17. 'Valentine's Day' - Michael Esper & Original New York Cast of Lazarus
18. 'When I Met You' - Michael C. Hall & Krystina Alabama
19. 'Heroes' - 4:43 - Michael C. Hall, Sophia Anne Caruso & Original New York Cast of Lazarus
CD 2:
1.'Lazarus' - David Bowie
2. 'No Plan' - David Bowie
3.'Killing A Little Time' - David Bowie
4.'When I Met You' - David Bowie
Source: www.msn.com
Added automatically
619 views