News
Celine Dion thanks late husband for 'wonderful pieces of luggage'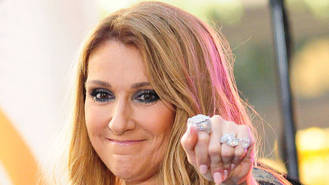 Celine Dion is staying strong in the months after her husband's death thanks to the "wonderful pieces of luggage" he left behind.
The singer closed Friday night's (09Sep16) Stand Up to Cancer fundraising telecast in America by performing her emotional new song Recovering, which was written for her by pal Pink, and on Monday (13Sep16) she appears on The Ellen DeGeneres Show.
During a taped chat for the programme, Celine told Ellen she is doing well considering she lost her husband Rene Angelil to throat cancer in January (16).
"It is tough, I have to admit... but it's part of our life, and life has imposed this on him," she said. "That was his destiny, and I still feel extremely fortunate that he has given me three magnificent children - wonderful pieces of luggage. As an artist, to feel confident and to experience enough and to keep going.
"I'm well because he (Rene) is not suffering anymore, because the hardest thing is not to lose somebody you love, but to see them suffer," Celine added. "So for me to know that he is in a place where he doesn't suffer anymore makes me feel way better."
The Canadian star then lightened up the proceedings by showing off her talents as a balladeer, turning the lyrics of songs by the likes of Nelly and Britney Spears into tearjerkers.
"My career's going to end tonight," the singer joked as she belted out alternative renditions of Hot in Herre, Work B**ch, and Missy Elliott's Work It.
Celine also lost her brother Daniel to cancer days after the death of her husband, and her brother-in-law Guy Poirier is currently battling the disease.
Source: www.msn.com
Added automatically
582 views