News
Ariana Grande: 'Stevie Wonder collaboration is as good as it gets'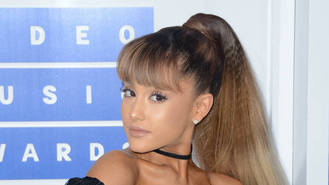 Ariana Grande feels she has reached her peak after working with Stevie Wonder.
The 23-year-old singer collaborated with musical legend Stevie for a song called Faith, which features on the soundtrack of upcoming animated comedy Sing.
Working with such an icon was an amazing opportunity for Ariana, who said during an appearance on The Tonight Show Starring Jimmy Fallon on Thursday night (08Sep16) that she might as well give up now, because she's not going to top that experience.
"I'm featured on a Steve Wonder song, man! That's like, what?" Ariana laughed in disbelief. "I'm done now, I'm good. That's it for me."
It wasn't just the opportunity that Ariana loved so much, but the actual process of laying down the tune. Being in the recording studio with the 66-year-old singer was something the young star will remember for the rest of her life.
"Not only did I get to sing with him, but we were in the same booth, so it was like, me and Stevie Wonder arm in arm, holding hands in the booth, singing together, laughing, having a good time," Ariana smiled. "Every time I got comfortable with the fact that I was in a booth, arm in arm with Stevie Wonder, he would hit a Stevie run, and I'd be like, 'Oh, s**t, that's Stevie Wonder.'"
Fans of Ariana will know the singer can hit some impressive notes herself, and she'll be showing off her vocal talents when she hits the road for her Dangerous Woman Tour.
"The first batch of dates will be up on DangerousWoman.com tonight. I'm very excited, I can't wait to get on the road again," she grinned. "There will be more dates coming, but this is it for now. I just had to get something up because of my fans, I promised them. I'm a little late."
The tour begins on 2 February (17) in Phoenix, Arizona, with dates announced up to her show in Orlando, Florida, on 15 April.
Source: www.msn.com
Added automatically
592 views