News
Barbra Streisand writes song for Donald Trump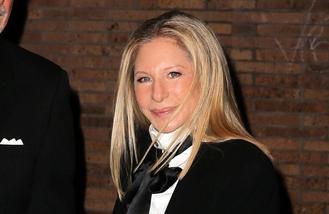 Barbra Streisand has written a song about US Presidential hopeful Donald Trump.
The 74-year-old icon put her feelings about the outspoken businessman-turned-politician into a tune which she performed at an LGBT fundraiser for Hillary Clinton, Trump's rival for the presidency.
In front of a 1,000-strong crowd, she sang: "Is he that rich? Maybe he's poor. Till he reveals his returns, who can be sure?
"Something's amiss, I don't approve. If he were running the free world, where would we move?"
Streisand - who also sang renditions of 'People', 'Pure Imagination' and 'Happy Days Are Here Again' - continued: "And if, by chance, he gets to heaven, even up there, he'll declare Chapter 11. This sad, vulgar clown. You're fired, you clown."
Last month, meanwhile, Streisand asked Apple to change how Siri pronounces her last name.
The 'Woman in Love' hitmaker is not impressed with how the iPhone assistant says her name so she phoned up the company's CEO, Tim Cook, to ask for him to have it altered.
She explained: "She [Siri] pronounces my name wrong. Streisand with a soft S, like sand on the beach. I've been saying this for my whole career.
"And so what did I do? I called the head of Apple, Tim Cook, and he delightfully agreed to have Siri change the pronunciation of my name, finally, with the next update on September 30th. So let's see if that happens because I will be thrilled."
Source: www.msn.com
Added automatically
597 views