News
Foo Fighters Mum Writes Book on Raising Rock Kids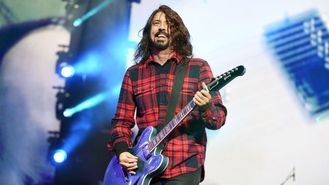 Foo Fighter head honcho Dave Grohl has a new challenge to tackle.
This is not a musical one and one that every son cannot ever debate. Why you ask? Well this is because this is a book written by his mother and it looks at the way parents take to raising rock star off spring.
Grohl's mother Virginia Hanlon Grohl has taken it upon herself to interview a number of famous musicians' mothers to achieve this ambitious project.
The book will feature a foreword by Mrs Grohl's son Dave and feature some exclusive picture too. Some of which are to be of a young Dave. Yes the kind of pics only a mum can show.
Interviewee's will include such maternal family members as those of Dr Dre, Amy Winehouse, The Haims, Michael Stipe and many others.
The book will take a look at how a mother sees their offspring and their chosen career choice come into being. How they got on in the industry and what dangers such as drugs and other temptations they encountered.
The book entitled 'From Cradle to the Stage – Mothers who rocked and raised rock stars' will be released in 2017.
Source: www.msn.com
Added automatically
585 views