News
Chance The Rapper to perform at the White House's National Christmas Tree Lighting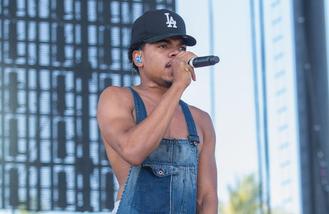 Chance the Rapper is set to perform at the White House's National Christmas Tree Lighting.
The 23-year-old rap artist will perform at the annual event on December 1 alongside a line-up also consisting of Kelly Clarkson and gospel star Yolanda Adams.
The 'Cocoa Butter Kisses' musician will make his White House performance debut at the Christmas Tree Lighting, whilst both Kelly, 34, and 55-year-old Yolanda are veterans of the stage.
The 'Because of You' singer appeared at current President Barack Obama's second inauguration in 2013 when she sang 'My Country 'Tis of Thee', whilst Yolanda has performed at White House 'In Performance' events twice, both celebrating Ray Charles and the Civil Rights Movement.
Despite Chance never performing at the White House previously, he has a history with President Obama as his father worked for him when Obama was a state senator for Illinois. Back in April this year, Chance was among several hip-hop artists to be invited to meet with Obama to discuss the My Brother's Keeper initiative which helps keep young people away from crime.
President Obama is also a fan of Chance's music, as he recently featured his song 'Acid Rain' on his summer playlist.
Speaking about the President, Chance said previously: "He brings me up to his office, and we had a really good conversation about what I was working on. He told me I needed to start selling my music. He's a good man. Even if he wasn't president, if his ass worked at, like, Red Lobster, he'd be just a good man working at Red Lobster."
The White House's National Christmas Tree Lighting event will be ticketed via a free ticket lottery that will open for the general public on October 7.
Source: www.msn.com
Added automatically
689 views