News
Metallica record tribute track to Lemmy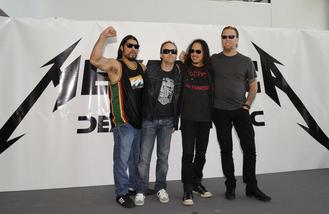 Metallica's new song 'Murder One' is inspired by late rocker Lemmy.
The heavy metal band have penned the track - which features on their upcoming album 'Hardwired... to Self-Destruct' - in tribute to the Motorhead frontman who died in December 2015 from an aggressive form of cancer.
The song features many of Lemmy's lyrics and the group - James Hetfield, Lars Ulrich, Kirk Hammett and Robert Trujillo - collectively made the decision to celebrate the 'Ace of Spades' hitmaker's life as they are all big Motorhead fans.
In an interview on satellite radio station Sirius XM, singer James said: "Motorhead had a lot to do with Metallica sitting here right now. Lemmy as an entity - a kind of father figure - helped us a lot. He was unafraid and he was a character. And he was himself. We all respected that so much. He did his own thing to the last breath. No matter who you are, how could you not be inspired by that?"
Drummer Lars says if he hadn't gone to Motorhead shows when he was younger then he would never have believed that Metallica could make it in the music business.
The 52-year-old sticksman said: "When I came back to Southern California, I called James up and said, 'Listen, we've got to give this a shot.' Motorhead is the catalyst."
Metallica will release their 10th studio album on November 4 and it is the band's first full LP since 2008's 'Death Magnetic'.
They recorded it with producer Greg Fidelman, who worked with them on 'Death Magnetic' and 'Lulu', the collaborative album the foursome recorded with late singer/songwriter Lou Reed in 2011.
Source: www.msn.com
Added automatically
575 views