News
Kenny Rogers is retiring from music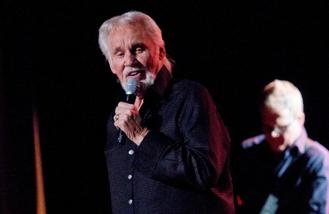 Kenny Rogers is to quit music in 2017 as he believes he's "had [his] turn".
The 78-year-old country legend will call time on his career after his 'The Gambler's Last Deal Tour' concludes in Danville, Kentucky, on April 8, 2017.
Kenny has made the decision to retire because he believes he has "done everything" he can as a songwriter.
Speaking to reporters during a conference call, 'The Gambler' hitmaker said: "I've done everything I set out to do. Every goal I've set, I've done that, and there's a point where you have to say, 'I've had my turn. Let someone else have it,' and that's kind of where I am."
For the 'Lady' musician, the decision comes largely out of a need to spend more time with his family, specifically with his 12-year-old twin sons Justin and Jordan, who he has with fifth wife Wanda Miller.
Kenny missed out on seeing his older children, Christopher, Carole, and Kenny Jr. grow up, and wants to remedy that with his younger children.
He said: "I have two older boys and I didn't get to spend this time with my older boys, and I resent it because it's a very special time in a kid's age. My [younger] boys are playing football this year, and we went to watch a game and they were so excited about us being there, and that's the kind of thing that as a parent you want to be part of as much as you can."
And the 'Islands in the Stream' musician says he has no regrets about his decision to retire, as he finds the actual act of performing shows a lot harder than it used to be now that he's older and has even had to change his show to make it easier for him.
He said: "I thought it was going to be easy but I'm so tired and it's not as easy for me to get around. I'm not as mobile as I used to be. I've changed the show totally. The show's about an hour and a half long, and I go through a chronological look at my life that includes all my music."
Source: www.msn.com
Added automatically
579 views