News
Robbie Williams announces new album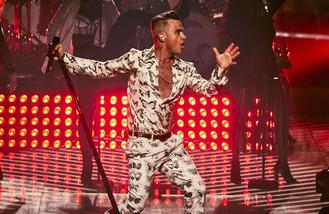 Robbie Williams will release his first album in three years on November 4.
The 42-year-old singer's 11th studio LP, 'Heavy Entertainment Show', will feature songs co-written by Ed Sheeran and The Killers' Brandon Flowers, as well as his long-term collaborator Guy Chambers.
And Robbie is thrilled to have his working relationship with Guy back, after they fell out five years ago.
Speaking to Julie Adenuga in a special interview to be aired on her Beats 1 show on Monday (26.09.16) at 7pm, he said: "Me and Guy have been working together really for the last, again, for the five years. We did the 'Swing' album together, and he's been MD on my tour, so I can't really remember what happened five years ago, but we're back in each others' lives and I love him, he's my musical brother, and you know, he's my spiritual brother, and we just try to get back into the studio and recreate some magic, and hopefully reconnect with what made it and us successful in the first place."
Robbie has been working on the album since the release of 2013's 'Swing Both Ways' and admitted the tracklisting has seen a number of changes.
He said: "I've been working on this album like I work on all the other albums, it's been a process of three years, some of these songs that have been on the album I've had three years ago, and I've had on my computer and I've been very excited about them and the new ones have taken their place and then the old ones have gone, and then the old ones come back up, the new ones, it's just a process that's been years in the making."
The album's title track, 'Heavy Entertainment Show', is already available to download, while Robbie performed two songs from the record, 'Motherf***er' and 'Sensational' at his Apple Music Festival gig in London on Sunday (25.09.16) evening.
The record - which will be released as an 11-track standard LP of 16-track deluxe version which includes a behind-the-scenes DVD - is Robbie's first on his new label Sony Music.
Source: www.msn.com
Added automatically
590 views