News
Backstreet Boys announce 2017 Las Vegas residency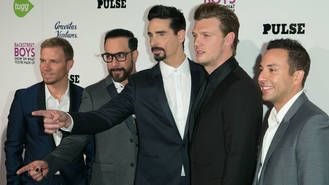 The Backstreet Boys are heading to Las Vegas for an 18-date trial residency.
The band's Larger Than Life show will hit The AXIS Theater at the Planet Hollywood Resort & Casino in March (17), and if all goes well, there could be many more gigs to come.
Announcing the news on Friday (23Sep16), following months of speculation, Backstreet Boys star Brian Littrell said, "If you've ever been to a Backstreet Boys show... it's going to be that on steroids."
"We're going to call the show Larger Than Life, and we're taking that theme and we're going to run with it," bandmate Kevin Richardson added.
The group have booked 18 shows at The AXIS between March and 1 July (17), insisting every gig will be a "one-of-a-kind, over-the-top" production.
They join Britney Spears and Jennifer Lopez, who have enjoyed successful residencies at Planet Hollywood.
The bandmates recently checked out Britney's Piece of Me show at the resort and Richardson admitted he was very impressed.
"It seemed really convenient for the family," he said in April (16). "A Vegas residency, now that we're all fathers, could be very convenient for us… We won't have to travel so much."
And new dad Nick Carter can't wait to thrill fans in Sin City, adding, "We're excited to bring our experience from being a touring act with all of our hits to Vegas, so that it becomes something that you'll never forget."
Source: www.msn.com
Added automatically
611 views