News
Skylar Grey: 'Eminem encouraged me to try rap'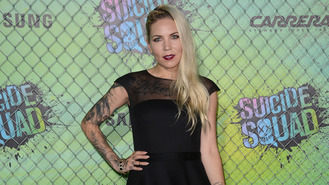 Skylar Grey credits Eminem with encouraging her to experiment on her new record.
The American singer-songwriter released her latest album Natural Causes on Friday (23Sep16), and shows off her rapping skills in the song Lemonade.
Skylar, who co-wrote Eminem and Rihanna's 2010 song Love the Way You Lie, knew she wanted to rap at some point on the record and sought the 43-year-old superstar's advice on her work.
"This time around I was like, 'I want to try writing my own raps,' to see if I could do it," she told Billboard magazine. "The first song that I wrote as a rap I sent to Eminem and I said, 'Tell me if this sucks. Should I ever rap again?' and, because he's the best person to ask in my life, he called me and was like, 'You can rap'.
"So it gave me the confidence to keep going, and I do a couple of my features."
As a child Skylar, real name Holly Hafermann, performed professionally in folk duo Generations with her mother before stepping out on her own. She released debut album Like Blood Like Honey in 2006 before following that with Don't Look Down in 2013, which featured guest appearances from Big Sean, Travis Barker and Angel Haze.
But for Natural Causes, the 30-year-old wanted to try something completely different.
"This time around I was able to be a little bit more free, creatively," she explained.
"I feel like there was less expectation on my own part. I just wanted to make an album that really spoke to who I am as an artist. I put a lot of expectations on myself for the first one."
Skylar, who cites Radiohead, Bon Iver and Kendrick Lamar as some of her key inspirations, adds that she hopes she's created her own sound with the new record.
"Now I feel like the album has come a place where it's a good combination of all the things I love about my favourite artists," she smiled.
Source: www.msn.com
Added automatically
623 views