News
Metallica don't always get on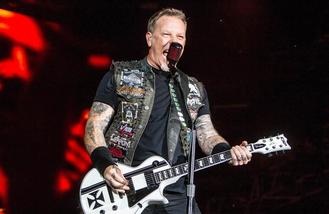 Metallica have admitted they sometimes "hate" one another.
The rockers will release their first album for eight years, 'Hardwired... To Self-Destruct' in November, and they admit one of the reasons for the delay has been "communication" issues.
Singer James Hetfield explained: "Anything worthwhile takes work. You know, a marriage is tough enough but being married to three other guys in a band for 30-odd years?
"We're guys and we all have our own agenda - and we can be cynical about each other's agendas. We're creative, too, so we make up tons of stuff in our heads if we don't communicate. So communication is pretty huge.
"We love each other and we hate each other and sometimes it's really easy, sometimes it's really hard but it's always worth it."
Though they may have been together for 35 years, the 'Enter Sandman' hitmakers have no plans to retire any time soon.
Guitarist Kirk Hammett told BBC 6 Music's Matt Everett: "It doesn't feel like we're in the twilight of our career.
"From what I can gather, collectively, we still have a lot to say, music that we want to create and everything that comes in the wake of that. If I was just to stop now it would it would feel like coitus interruptus or something. I'm not finished yet!"
However, the group - which also includes Lars Ulrich and Robert Trujillo - do admit they are "blown away" by the fact they are still together and have a strong fan base.
James said: "We're still blown away by the fact we're still going, and that people like what we do. That's bizarre to me!"
Source: www.msn.com
Added automatically
651 views