News
Kesha backs former Miss Universe in battle with 'monster' Donald Trump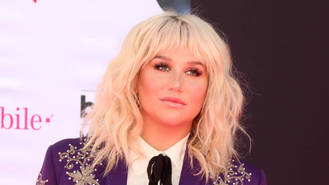 Pop star Kesha has backed former Miss Universe Alicia Machado in her war of words with U.S. presidential hopeful Donald Trump.
The Venezuela-born actress, 39, won the Miss Universe beauty pageant in 1996, when it was owned and run by the billionaire-turned-politician.
She was dragged into the bitter presidential campaign on Monday (26Sep16) when Democratic Party candidate Hillary Clinton used a televised debate with Trump to accuse him of bullying Alicia after her victory.
In an interview with the New York Times in May (16), Alicia said Trump's public pressure on her to lose weight after winning the crown, which included a photo call at a gym, caused her to develop eating disorders.
"After that episode, I was sick, anorexia and bulimia for five years," she told the paper. "Over the past 20 years, I've gone to a lot of psychologists to combat this."
In a show of solidarity with the former beauty queen Kesha shared a picture of a New York Times article on the controversy on Instagram, accompanied by a lengthy post in which she called Donald a "monster".
"I want to give my support and respect to you, Alicia," the post read. "You did not deserve to be shamed by this monster. Your body is NO ONE else's business. Donald Trump said that your body or weight was an issue (which makes me so sad and just sick).
"I find the real problem here being his bloated, arrogant ego and offensive, racist, misogynist verbal diarrhea. he is a bully."
Kesha has been locked in a legal battle with music producer Dr. Luke over claims he sexually and emotionally assaulted her since 2014. Her attempts to get out of her recording contract were dismissed earlier this year (16).
Since Monday's debate, in which Clinton accused Trump of calling Alicia "Miss Piggy" and "Miss Housekeeping" in reference to her weight and Latin heritage, the presidential candidate and the actress have continued to trade angry words.
Speaking about Alicia in an interview with U.S. news show Fox and Friends, he said, "She was the worst we ever had, the worst, the absolute worst. She was impossible. She was the winner and she gained a massive amount of weight and it was a problem."
Source: www.msn.com
Added automatically
805 views