News
Billie Joe Armstrong: 'I lost my mind on drugs'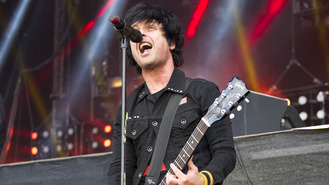 Billie Joe Armstrong thought his life was completely normal during the height of his drug problems.
The Green Day frontman sought help in 2012 when he entered rehab for substance abuse, scrapping all promotional plans for the band's ambitious three album release.
While the pressure of writing and recording three albums back-to-back intensified his problems with drink and drugs, Billie admits he was "unravelling" anyway.
"The thing about someone who's losing their mind is that they don't know they're losing their mind. I thought my life was completely normal," he told Q magazine. "And it wasn't. I was on drugs! And people aren't acting rationally when they're on drugs. So I had to take care of myself. I had to kick that, and I did. Then we took a long break which was totally necessary."
The trilogy of albums were still released, with ¡Uno!, ¡Dos! and ¡Tré! hitting shelves within three months of each other. While they all made it into the top 20 of the Billboard 200 chart, each record fared progressively worse.
"Those records have absolutely no direction to them. It was about being prolific for the sake of it. So we were just going and going and going," Billie admitted.
The band, now made up of Billie, Mike Dirnt and Tre Cool, will soon unleash their twelfth offering, Revolution Radio, which is released on 7 October (16). To accompany the album, Green Day is heading out on a world tour from September. The first leg will be in North America, with the band shunning stadium venues in favour of night club stages, but they'll be back to the arenas when they reach Europe in January.
Source: www.msn.com
Added automatically
630 views