News
Coolio arrested over stolen loaded gun at airport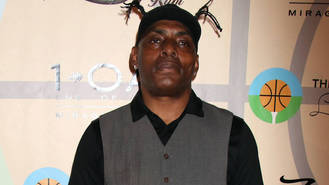 Coolio has been arrested over possession of a loaded, stolen gun at Los Angeles International Airport.
The 53-year-old rapper, real name Artis Leon Ivy Jr., was at the airport on Saturday morning (17Sep16) when the firearm was discovered in a bag as a member of his entourage passed through a Transportation Security Administration (TSA) screening checkpoint.
The unidentified 39-year-old man initially claimed he was the owner, but on further inspection it was revealed items in the bag belonged to Coolio, who had already left the security area and boarded the plane.
Police officers removed him from the flight for questioning, and both he and his travelling companion were taken into custody, TMZ.com reports.
"Los Angeles Airport Police responded to Terminal 3 for a report of a prohibited item at TSA screening," the Los Angeles Airport Police department said in a statement later on Saturday. "Both suspects were arrested for possession of a stolen loaded firearm."
The Gangsta's Paradise hitmaker posted a video on YouTube, which he shared on Twitter, assuring his fans he was fine and the incident was a "misunderstanding".
"What's up everybody? This is Coolio. Just wanted to say something about the little misunderstanding at the airport today," he began the short clip. "Everything's fine. As you can see, I'm at P.F. Chang's having a meal, and having a few drinks."
"I mean, I don't know what's going to be the result of this in the future, but for now I'm fine, and I appreciate everybody's concern," he added.
He told his fans in the video he was looking forward to his concert on Sunday (18Sep16) in Indio, California, where the rapper is due to perform at the Empire Polo Club.
Source: www.msn.com
Added automatically
581 views