News
Elton John to kick of Apple Music Festival 2016 tomorrow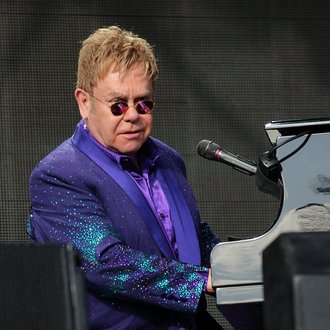 Apple Music Festival kicks off tomorrow (18/9) with Elton John performing the first of 10 gigs in 10 days at The Roundhouse.
The legendary songwriter and piano player, who is also doing a UK tour which you can get tickets to, is not the only big name to be making an appearance in relatively intimate surrounds (the roundhouse holds 1,700 people and most of these artists could fill Hyde Park).
Britney Spears is going to be playing her first UK gig in five years in the venue. Fans will be eager to hear songs from her new album Glory alongside her timeless pop hits. It's a very cool way to make a comeback rather than slamming on 4 dates at the 02 which she'd sell out.
The 1975, who impressed at The Mercury Prize on Thursday (15/9) will be a fun one to watch. Matt Healey, who claimed he would have spent all his winnings on drugs in an interview with NME that evening, will be his usual extroverted self. At the awards he left the stage to climb on to a a table of VIPs where they were dining watching the band and grabbed their wine before downing it all. He's the most rock n roll frontman in pop, it's nice to see someone that isn't pretending to not enjoy themselves on stage and the band are unmissable on this form.
Alicia Keys, who just played the Champions league final and released a new album, which she told me in an interview with The Line Of Best Fit is all about New York: "The album is very much about New York," she tells me. "It's about how it has made me who I am, how it's made me see the world, made me the woman I am, the artists I am, and made me sonically who I am." It's also an album she believes wholeheartedly in and is likely to make her performance all the more riveting. "Oh my god this album is so crazy. I love it so much! It's definitely the best body of music I've ever done," she said.in the Roundhouse is a tantalising proposition, especially since she has no other UK tour dates announced.
Here's the full line up
Sunday 18 September: Elton John
Monday 19 September: The 1975
Tuesday 20 September: Alicia Keys
Wednesday 21 September: OneRepublic
Friday 23 September: Calvin Harris
Sunday 25 September: Robbie Williams
Monday 26 September: Bastille
Tuesday 27 September: Britney Spears
Wednesday 28 September: Michael Bublé
Friday 30 September: Chance the Rapper
Ticket information
As with the iTunes Festival, tickets to the Apple Music Festival are free. However, you have to "win" tickets by entering through Apple Music on the Apple Music app. You will need to be signed up to Apple Music to do it (See what they're doing there? -Watch out Spotify!).
You can also apply through ticketing app Dice. Go to the and select the act you want to win tickets for. This will ask for your mobile number to text you a link to the relevant page of the Dice app, or prompt you to download it.
Source: www.msn.com
Added automatically
606 views