News
Celine Dion: 'Animated movie Up saved my life'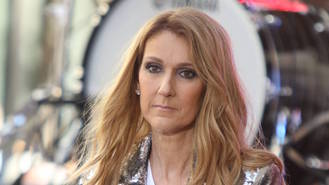 Celine Dion is thankful to have had the movie Up to help explain the loss of her husband Rene Angelil to their youngest children.
The couple's eldest son, Rene-Charles, turned 15 less than two weeks after his father's death in January (16), but Dion was most concerned about grief counselling for their five-year-old twins, Eddy and Nelson.
"I asked for some books for children to help me to guide them through this," the My Heart Will Go On superstar explained in a Yahoo! interview with U.S. broadcaster Katie Couric.
"And (the books) kind of, like, shook me up so much. It was not my way of wanting to talk to my children."
The 48-year-old found an ideal solution in animated hit Up by accident, and now wants the world to know what is helping her heart go on.
"Up saved my life," she smiled, before referencing an elderly character in the 2009 family film. "I said (to the kids), 'What is the movie that Ellie died in?' And they said, 'Ellie died in the movie Up, Mum.' I said, 'That's it. Ellie,' I said. 'Well, I want you to now listen to me.' I said, 'Papa is now with Ellie.'"
She is also beyond moved by the support of her fans in helping her through such a difficult time, especially after losing her brother, Daniel, to the same disease just two days after Rene's passing.
"They've been always there. And when Rene passed, I was extremely touched by the fact that they were so, so there," she revealed.
"The applause that I received for the last three months (during her Las Vegas residency) were not applause of, 'Oh, Celine, we love you so much. She's gonna sing my favourite song tonight. Oh my gosh.'
"They were saying to me without a word, 'Are you OK? You know we're there. You know we've always been there. Are your children fine? We can't believe you're here. Are you sure you wanna do that? We love you so much.'
"I felt that," she added. "And I feel that the fans were grieving with me. And that helped a lot. Tremendously. They know me beyond the songs. And that, for me, is priceless."
Source: www.msn.com
Added automatically
593 views