News
Teyana Taylor and Iman Shumpert have wed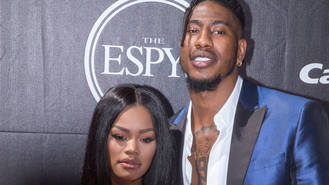 Singer/rapper Teyana Taylor and U.S. basketball player Iman Shumpert have tied the knot.
The 25-year-old accidentally slipped and called Iman her husband during an appearance on U.S. talk show The Wendy Williams Show on Tuesday (20Sep16), and then admitted she had exchanged vows with the sportsman.
"I have a wonderful husband. He's so supportive," she said. "Not only is he a basketball player, he's really just everything."
The newlywed also confessed her husband's talents are are all over her new album, adding, "He's my biggest supporter... He's like, 'No babe, let's do it, it's time, let's roll, get in the studio'. He's in the studio with me, he's writing with me."
Teyana and Iman welcomed their first child, Iman Tayla Shumpert, Jr., in December (15) and the little girl made a dramatic entrance into the world.
"On Dec 16th at 6:42am in our bathroom Junie decided she wanted to take her first breath into this world," Taylor wrote on Instagram. "She came out as a wonderful surprise to everyone! Not knowing I was in labor until I felt her head... it took two ten count pushes with my fiance playing Dr (doctor) and she entered this world into his bare hands...
"She opened her eyes right away, gazed into mine and never cried! He handed her to me wrapped in our bath towel and wiped her face for me to see what LOVE really is. She has blown Christmas away! Our family is complete. Her blueprint will be unmatched."
The proud mum ended her Instagram message by writing, "Welcome Iman Tayla Shumpert Jr. Mommy carried you. Daddy delivered you. #MeetTheParents we love you baby girl."
Teyana did not reveal any wedding details, but the couple has been engaged since November (15).
Source: www.msn.com
Added automatically
578 views