News
Gorillaz tease mysterious upcoming album with new Instagram and website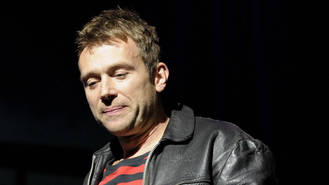 Gorillaz musicians have unfurled a brand new Instagram account and website ahead of their mysterious album release.
The group hasn't dropped new music since their fourth album The Fall reached listeners in 2011, leaving fans at the edge of their seats in anticipation of fresh songs, and as the band prepares to put out a fifth record in 2017, the enigmatic crew has made quite a strange online debut.
On Tuesday (20Sep16) the Gorillaz made their Internet presence known on social network Instagram by publishing 27 photos from previous artistic efforts dating as far back as their premiere self-titled 2001 album.
The very first image they shared on the photo-sharing app features the words, "NOV _ 2000", and directly links to the third published photo which has "_TOMORROW COMES TODAY The four track EP which first unleashed Murdoc, Noodle, Russel and 2D onto an unsuspecting world. Released in 2000" written in white letters against a blue background. The textual allusions reference the first single released by Gorillaz entitled Tomorrow Comes Today, a tune which premiered back in November, 2000, as well as the fictional bandmembers in the creative group, which was founded by real-life Blur musician Damon Albarn and Tank Girl comic book artist Jamie Hewlett back in 1998 as a "digital band" with both cartoon characters and humans fronting the instruments.
Needless to say, their Instagram debut this week has left some fans with even more questions about what the Gorillaz are planning to do on their new album, as some critics are now pondering whether or not the fresh music will be some type of a throwback to previous sounds.
But what is known for sure is that the album will feature some amazing collaborations with incredible artists such as Snoop, De La Soul, Vic Mensa, Liam Bailey, and Jean Michel-Jarre.
Source: www.msn.com
Added automatically
579 views