News
John Lydon: It's taken 40 years to find 'perfect' bandmates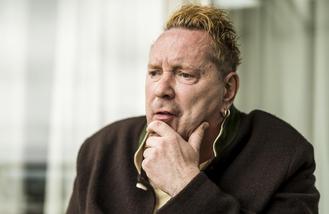 John Lydon says it has taken him 40 years to find the "perfect blend" of bandmates.
The 60-year-old singer - who was known as Johnny Rotten when he fronted The Sex Pistols - is the happiest he's ever been in his band Public Image Ltd - also known as PiL - because the members all "respect" their art and aren't just in it for stardom.
Lydon - who is joined by Keith Levene, Jah Wobble and Jim Walker in the post-punk band - told this month's CALIBRE Quarterly magazine: "It's taken me 40 years to find the perfect blend of people who truly do respect each other. Every band does when they first start, but it can very quickly turn to ego. There're far too many people in the music business who want to be superstars, rather than enjoy what it is that they've been given!"
The 'God Save The Queen' hitmaker said that PiL is an "exploration of emotions" and their aim is to creative new rhythmic structures to fit the subject they are talking about.
Asked if they are heavily influenced, he said: "No! We might listen to everything but we're not 'heavily influenced' by everything. Old members have said various things to explain their particular angles on things in the band - but everything about us is to create entirely different rhythmic structures that are appropriate to the subject matter that we're dealing with. PiL is an exploration of emotions really."
The outspoken rocker also said that when they get into the studio there are "no rules" and it can get quite "out of control", but that it is important when trying to relay an "honest emotion".
Asked what their creative process is like, John explained: "Wild, out of control. There're no rules. We did a little documentary that goes with the last album, and it's the first time ever that I've allowed anyone to film the creative process.
"It's an honest, accurate portrayal of the friendliness that's involved, and the willingness to grasp an idea and explore it to the upmost end that you possibly can, because it's very important to relay an emotion accurately - and you can't do that as well using rhythmic structures that are already set in stone and are probably well too overused.
"So, there you go, we flip the beat! We use anti-music, non-music, non-riff, pro-riff, everything that's there and take it to the ninth degree."
Source: www.msn.com
Added automatically
567 views