News
AC/DC's Cliff Williams confirms retirement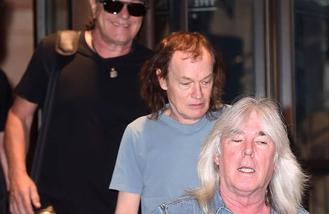 AC/DC bassist Cliff Williams has confirmed his retirement.
The 66-year-old musician previously admitted he was planning to leave the group after the end of their 'Rock or Bust World Tour', and he has now confirmed it is time for him to "step out" of the band.
In a video posted on the 'Highway to Hell' hitmakers' YouTube channel, Cliff stated: "It's time for me to step out, that's all. I'm ready to get off the road and do what I do in between tours.
"I couldn't have asked for anything more - being with the people I'm with, and have been, being in this situation with this band, playing this music."
Cliff first joined the 'Back in Black' musicians in 1977 as a replacement for their original bassist Mark Evans.
After founding guitarist Malcolm Young retired in 2014 due to dementia, Cliff became the band's second most senior member after Angus Young.
In July this year, Cliff announced he was planning to retire because the band had become a "changed animal" over the years, highlighting drummer Phil Rudd's situation after he was placed on house arrest, and that frontman Brian Johnson had pulled out of shows due to the threat of "total deafness".
Speaking at the time, Cliff said: "It's been what I've known for the past 40 years, but after this tour I'm backing off of touring and recording.
"Losing Malcolm, the thing with Phil and now with Brian, it's a changed animal. I feel in my gut it's the right thing."
Source: www.msn.com
Added automatically
576 views