News
Stevie Nicks' regret over drug use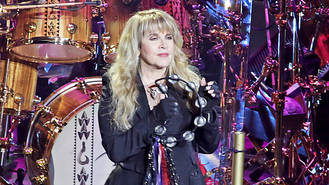 Stevie Nicks regrets ever doing drugs now that she knows she can play gigs sober.
The American singer found fame as part of group Fleetwood Mac alongside bandmates including Mick Fleetwood, Lindsey Buckingham and Christine McVie, and together they released hits like Go Your Own Way and Dreams. Indulging in a rock'n'roll lifestyle, Stevie, 68, and the band would often enjoy cocaine binges before shows – something the singer now deeply regrets.
"Yes, it was a lot of fun between 1975 and 1990 - until it wasn't," she recalled to The New York Times. "I walk onstage every night now and do a three-hour show with Fleetwood Mac, and I have a great time up there. I wish I had known that I actually had the energy to do this entire set totally sober and get just as excited. On one hand, that makes me feel great and on the other it makes me sad that I ever did my first line of coke."
Stevie, who departed Fleetwood Mac in the early '90s but returned to the group to play a string of shows over the last few years, soon became addicted to the drug and it's rumoured she once burnt a hole in her nose after spending $1 million (£750,000) on it.
While the star was happy to reunite with Fleetwood Mac, even after her turbulent relationship with Lindsey and her affair with Mick, Stevie admits she no longer values their opinions, especially when it comes to her solo material.
"I gave up caring about how everybody else in Fleetwood Mac feels about my solo work a long time ago. It's not their thing," she shrugged.
Stevie also named some of her current favourite artists during her interview, praising Hello hitmaker Adele, who she predicts will be around for a long time.
"If she needs to go away for three years, she doesn't feel like somebody's going to take her place. When you believe in yourself that much, you can take as long as you want," Stevie marvelled.
Source: www.msn.com
Added automatically
745 views