News
Clean Bandit's Jack protects his laptop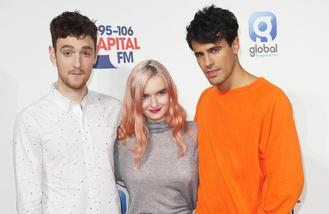 Clean Bandit's Jack Patterson is paranoid about losing his laptop because it has so much music saved on it.
The 28-year-old songwriter has been busy working on his band's new album - the follow-up to 2014 smash hit 'New Eyes' - and has all of the fresh tracks on his portable computer.
Jack also has the songs he is working on with other artists and the raw footage from Clean Bandit's videos so he makes sure he knows where the laptop is at all times.
Speaking to BBC Newsbeat, he said: "My laptop has so much of our stuff on there. I also have this big bin bag full of hard drives. I have to have it near me."
Jack almost lost his digitised archive once but luckily he was able to save his music and videos with the help of an unlikely hero.
He revealed: "We make all our own music videos so I have all the raw footage from them. We did have a disaster once though. We were editing one of the videos and my laptop died.
"I freaked out and sent it to a data recovery place, paid a load of money and they said there was nothing we could do. It had gone.
"I then found this guy around the corner from our flat in London. He had this tiny workshop, he took it apart and managed to recover the whole lot. I've been so careful ever since."
Jack and his bandmates - brother Luke Patterson, Grace Chatto and Neil Amin-Smith - so far have "30 to 40" tracks completed for their next LP but they are struggling to settle on a final tracklist.
Although Clean Bandit are working hard to finish their record, they are still finding the time to have breaks from their hectic recording schedule.
Grace said: "I went to a friend's 30th birthday in a castle in Yorkshire recently. We actually get more days off now than when we started.
"Four years ago we never had any time off because we were constantly trying to get the music out there. There's now more structure to what we do."
Source: www.msn.com
Added automatically
592 views