News
Zayn Malik on board for boy band TV series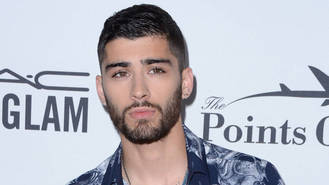 Former One Direction star Zayn Malik is officially onboard to executive produce a TV series about a fictional boy band.
The Pillowtalk star has teamed up with Law & Order franchise boss Dick Wolf and his wife Noelle Wolf to develop Boys, a drama which will follow a group of male singers on their rise to success, capturing the behind-the-scenes pressure put upon them in the fast-paced music industry.
"We were intrigued by the synergistic potential that Zayn brings to the project," Noelle says in a statement. "Boys will be a show that's totally integrated on broadcast and digital platforms. Casting and original music will be major components, giving the show promotional potential on multiple levels."
Beauty and the Beast writing team Sherri Cooper Landsman and Jennifer Levin will pen the script as well as produce with Malik and the Wolfs.
Reports of Malik's involvement with the show surfaced last month (Aug16), with a source telling The Sun newspaper the heartthrob is more than qualified to work on the project alongside the TV veterans.
"It's a subject he knows lots about and he will call upon his experiences to advise the scriptwriters on the show," the insider said. "If the series does well, he'll receive plenty of kudos in the industry."
The source also suggested producers were planning on making the fake boy band into a genuine music act who will record and release original songs from the show.
Malik, 23, quit One Direction last year (15), after finding fame with Harry Styles, Liam Payne, Niall Horan and Louis Tomlinson on U.K. competition programme The X Factor in 2010.
The foursome has been enjoying an indefinite hiatus from being a group since December (15).
Source: www.msn.com
Added automatically
599 views