News
Axl Rose's manager thought Slash reunion request was a joke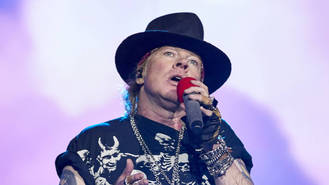 Axl Rose's manager thought he was joking when he first posed the idea of a Guns N' Roses reunion with Slash.
The American hard rock band's frontman and guitarist hadn't spoken in years after the line-up disintegrated in the 1990s. But that all changed when Coachella festival boss Paul Tollett became involved, and later hosted the band's initial comeback performances at the event in April (16).
Now, in their first TV interview since reuniting, Rose and bassist Duff McKagan have discussed how their reunion talks began, and how their manager Fernando Lebeis accused Rose of messing with him when he first requested Slash's contact details.
"It had a lot to do with Paul. He started talking about it, it seemed real, so at that point I told my people that they could go ahead and start talking, see what's going on," Rose told Brazil's Globo TV. "As it became more real I texted Fernando and asked for Slash's number. Fernando texted: 'If this is a joke… I'm going to kill you!'"
Eventually, the 54-year-old got in contact with Slash, but as he was on tour at the time nothing came of their discussion. However, in October (15), the trio met up for dinner and began planning their comeback, which ended coming around quicker than they had anticipated.
"Initially we were going to do some promos and stuff, then other things came up that got in the way," shared Rose. "Then when I went down to rehearsals, everything sounded right and we just went to work. It was all working."
Guns N' Roses are now believed to be planning more shows on their Not In This Lifetime tour beyond those already confirmed until February next year (17). Though Rose said that he is not certain at this stage whether classic line-up members drummer Steven Adler and rhythm guitarist Izzy Stradlin will be involved, even though Adler has made several guest appearances at their recent shows.
"I have no idea," explained Rose. "When this started Steven has just had back surgery and stuff. I don't have any idea about that."
Rose is currently touring with AC/DC and has six more shows with the band across the U.S. this month (Sep16). He also repeated in the interview that he will continue to work with the Australian rockers for as long as founder Angus Young wants him too.
"I love that it's my job, I love that Angus is my boss," he smiled.
Source: www.msn.com
Added automatically
610 views