News
Jame Bay records duet with KT Tunstall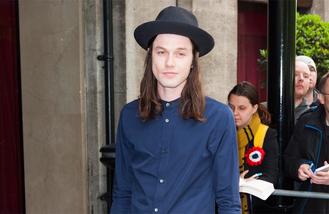 James Bay has recorded a duet with KT Tunstall called 'Two Way'.
The 26-year-old singer/songwriter and 'Suddenly I See' hitmaker - who first met on Jools Holland's' live Christmas show in December - recorded the track in Los Angeles after KT found out the 'Craving' singer is a huge fan and her "stalker".
The 41-year-old star - who is gearing up to release her sixth studio LP 'KIN' on September 9 - revealed: "We met doing Jools Holland's Hootenanny, and he knocked it out the park and blew me away.
"I knew he was a fan of my stuff and that was flattering.
"But it turned out he'd been to my gigs. I had no idea, but he was telling me all these shows of mine he'd been to.
"So I thought he would be perfect for a duet I had called 'Two Way' - It's a seventies-rock-classic bit of songwriting.
"His stalking paid off, It's all part of his master plan, to stalk.
"We spent a lovely day in LA, he could have done it in one but we recorded three.
"He's an incredible musician, a phenomenal guitar player really natural and knowledgeable."
Meanwhile, the Scottish star joked that you should be "wary" of a man who wears a hat, however, she assured fans that James did wear his signature black troubadour while recording on the song.
KT also said that her fans were very impressed with the fact she's worked with the 'Hold Back The River' musician.
She told the Daily Star newspaper: "My fans are over the moon especially the ladies - and I can reveal James recorded with his hat on. I can tell you his hair is not attached to his hat - always be wary of a man who always wears a hat."
Source: www.msn.com
Added automatically
586 views