News
Axl Rose's AC/DC future rides on 'boss' Angus Young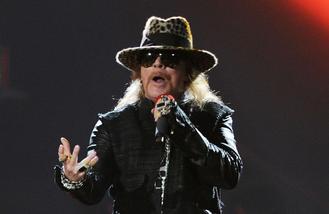 Axl Rose says his future performing with AC/DC is in the hands of his "boss" Angus Young.
The Guns N' Roses frontman has been filling in for the legendary rock group's frontman Brian Johnson - who was forced to pull out or risk total hearing loss from their 'Rock Or Bust World Tour' earlier this year - and the 'November Rain' hitmaker says he will continue to help them out until guitarist Angus says otherwise.
Asked how long he sees himself performing with the 'Thunderstruck' hitmakers, Axl, 54, told Brazil's Globo TV:
"I'll do that as long as Angus [Young, AC/DC guitarist] wants to do it and as long as... and we can make it work. GUNS is really supportive about it. I love that it's my job. I love that Angus is my boss. And singing the early Brian [Johnson] songs -- the first couple of albums with Brian -- those are something else to sing, so it's physically a different animal and another kind of work. And I take pride in doing it. And it's a hard thing in its own way. So after this [Guns N' Roses North American tour], there's a few days [off], and then I'll do another ten shows with AC/DC. And after that, it's kind of, whatever Angus wants to do."
Angus, 61, recently revealed Axl was keen to do more shows with AC/DC.
He previously said: "We're committed to finishing this tour, so that's been our main goal.
"Axl helping us - I know he's very excited. He keeps saying, can he do more [shows]. But we don't know at the end. This tour, which we were committed to, we want to finish it."
AC/DC 'Rock Or Bust Tour' US dates with Axl Rose:
September 04 - Nationwide Arena, Columbus, Ohio,
September 06 - Quicken Loans Arena, Cleveland, Ohio
September 09 - The Palace, Detroit, Michigan,
September 11 - First Niagara Center, Buffalo, New York
September 14 - Madison Square Garden, New York
September 20 - Wells Fargo Center, Philadelphia, Pennsylvania
Source: www.msn.com
Added automatically
606 views