News
Frank Ocean's private concert for Chance the Rapper and date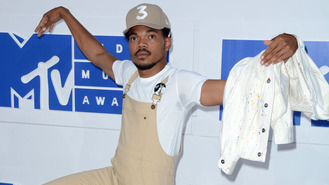 Chance the Rapper and a date were once serenaded by Frank Ocean.
The Chicago-born music star, real name Chancelor Bennett, counts a long list of fellow singers as friends, including Frank, J. Cole and James Blake. At one point he lived with British star James in Hollywood, with his musical mates often popping round to hang out.
During a date Chance was on while living in the Los Angeles pad, Frank dropped by and made sure the night was one to remember.
"I was on a date one time at the crib, and we're sitting in the front room, maybe rolling up some weed or something," Chance told America's GQ magazine. "And then Frank just comes up and starts playing the piano and lightly singing in the background of our date. Obviously, that scored me a lot of points with this female."
Chance, 23, dropped his first mix tape 10 Day in 2012, and was quickly noted as one to watch. He's now on his third record, Coloring Book, and despite steadfastly refusing to sign to a record label, Chance has seen his career go from strength to strength.
Kanye tapped the Chain Smoker star to work with him on Life of Pablo, Kanye's seventh studio album released earlier this year (16), and Chance admits it was a real learning experience.
"I would say almost 60 per cent of working with Kanye - let's say 53 per cent of working with Kanye - is speeches," he shared, adding Kanye has a whole room dedicated to baby clothes as well as three studios for producers.
"There was another guy there who was a magician."
Source: www.msn.com
Added automatically
620 views