News
Kings of Leon on being more than 'business partners' now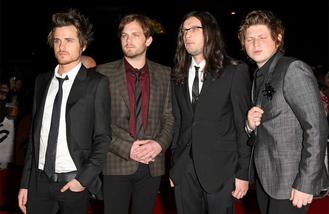 Kings of Leon have admitted they were too "business-minded" at their peak.
The 'Sex on Fire' hitmakers' frontman Caleb Followill says relations between the band members - made up of his brothers Jared and Nathan and their cousin Matthew Followill - broke down because they became too focused on making money.
Speaking in the new issue of NME magazine, Caleb admitted: "There were a lot of moments when we weren't talking. It was 'Man, we've become business partners.We haven't maintained our friendship and our brotherhood, everything that we are.
"After a while, it's not 'I'm going to do an interview with my brother', it's 'I'm going to do an interview with the drummer'. When you get together, it's never 'We are the band'. We lost that."
Bass player Jared also admitted that paying for each band member to have seperate transport to and from gigs impacted on their relationship.
The 29-year-old rocker said: "We'd only see each other for the hour-and-a-half before a show. We went too far in the other direction. If you're going to be friends and family, you can't really be a band, or we can't be this band."
The indie group - who are gearing up to release their eagerly-anticipated LP 'WALLS', which drops on October 14 - also felt like their last record, 2013's 'Mechanical Bull', wasn't their best because they were too much in their "comfort zone".
Jared said: "We were definitely going for it and trying really hard, but we got into a comfort zone. We've tried to peel that away on this album, by not using the same producer and doing it in our studio. We were really challenging ourselves, doing things where we were scratching our heads going 'Holy s***, is this right? Is this wrong?'"
Source: www.msn.com
Added automatically
589 views