News
Stevie Nicks hoping to summon the spirit of Prince at concerts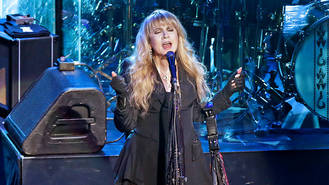 Singer Stevie Nicks regrets never sharing a stage with Prince before he died, revealing she left it too late to arrange a duet.
The Fleetwood Mac star was deeply inspired by the music icon, who passed away at the age of 57 in April (16), and wrote her hit tune Stand Back while listening to his classic Little Red Corvette.
And, as she prepares to hit the road for her newly-announced 24 Karat Gold Tour, she is feeling particularly "heartbroken" about the loss of one of her musical heroes, because she would have loved the opportunity to duet with him.
"Had I ever in a million years thought that we would lose him, I would have made sure that that would have happened," she tells Billboard. "And it didn't. So that's just one of those things in your life where you say, 'I really missed out'.
"That should have happened. So whenever I play Stand Back from this day forward, Prince will be standing next to me. That is always going to be a joy."
Stevie's upcoming solo tour will be her first since 2012 - two years before her eighth solo studio album, 24 Karat Gold: Songs from the Vault, reached fans, and she is planning to wow audiences with her concert series comeback, revealing there will be a few firsts.
"I want it (tour) to have its acoustic parts, I want it to have its little explosions of fun from all different parts," she explains. "Is it going to be songs from 24 Karat Gold? Absolutely. But it's also going to be some things from some of the other records also, because I'll never get a chance to do this again.
"I want to do Wild Heart, and that has never been done onstage, ever, because that is a hard song to do. So I'll give it a try, and if I can pull it off, I'll do it."
Stevie is hitting the road with an impressive opening act, The Pretenders, on her 24 Karat Gold Tour, which begins in Phoenix, Arizona on 25 October (16).
Source: www.msn.com
Added automatically
572 views