News
Tulisa says 'anything's possible' for N-Dubz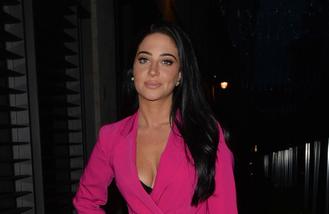 Tulisa says "anything's possible" when it comes to an N-Dubz reunion.
The 28-year-old singer has opened up about whether or not there will be any new music from the 'Playing with Fire' hitmakers - also comprised of her cousin Dappy and their friend Fazer - and while there are no plan to get back together at the moment, Tulisa wouldn't say no to a reunion in the future.
She told Digital Spy: "Anything's possible. We just haven't sat down and had a conversation or put a plan in motion.
"One day we'll all just turn around and go 'Are we doing it? Shall we do it?' and it'll just happen. At the moment I guess we're all working on our solo bits but it's always a possibility."
The former 'X Factor' judge - who led Little Mix to victory in 2011 - has also stated that she still keeps in close contact with her cousin and fellow bandmate Dappy, despite their public Twitter feud in 2012 that led to Tulisa announcing that N-Dubz had split up.
She said: "We'll never get away from each other. Even if we don't see each other for six months, at Christmas we'll be round granny's house and things like that. It's a family relationship."
The news comes after it was announced that Tulisa would be releasing a brand new single called 'Sweet Like Chocolate', which comes out this Friday (02.09.16).
The track is a reworked version of Shanks & Bigfoot's 1999 hit of the same name which Tulisa has said was "amazing" to remake into her own song.
Speaking previously, she said: "I've taken the chorus of an old school classic and written around it. It's one of the most loved tracks of the 90s, and one of my favourite songs as a child. It was amazing to remake and rewrite a song like 'Sweet Like Chocolate', it feels like a good way to come back."
Source: www.msn.com
Added automatically
597 views