News
Barbra Streisand called Steve Jobs for IT support when her computer broke down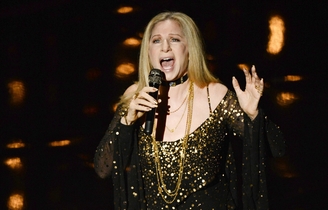 Barbra Streisand demands the best, and this extends to who she hires to solve her IT problems.
The US singer and actress revealed she once called the late Apple founder Steve Jobs to request he personally help fix her computer problems.
The 74-year-old told Good Morning Britain host Ross King: "I couldn't figure out something on my computer and nobody could figure it out, no IT guy, so I said; 'Can you get Steve Jobs on the phone?'"
"Sure enough, I asked him about this problem and he couldn't figure it out. He gave me his IT guy, who also couldn't figure out. That was funny."
Renowned for her lavish tour demands after 50 years in the music business, these latest revelations seem to fit with her character.
The news comes soon after she confessed to telling Apple's current CEO Tim Cook that the iPhone's inbuilt virtual assistant, Siri, pronounces her name incorrectly.
Cook took over as head of Apple in 2011 after Jobs lost his battle with pancreatic cancer.
Streisand, perhaps aware of how demanding the anecdotes make her sound, went on to try and assure viewers she was not always so direct.
"First of all, I don't want to be rejected, so I have my team, my A&R man, my manager, call their managers. They don't just pick up the phone. I only did that with Steve Jobs," she said.
A keen Hillary Clinton supporter, the star recently mocked Donald Trump by singing Anything You Can Do, I Can Do Better on Jimmy Fallon's Tonight show, report the Daily Mail.
Streisand is promoting her new album Encore: Movie Partners Sing Broadway, on which she duets with film stars including Anne Hathaway, Daisy Ridley and Hugh Jackman, state The Times.
Outside entertainment, the star is known for inadvertently creating the Streisand effect, a term used to describe how the attempted removal of information from the internet can lead to it being publicised more widely, after Streisand tried to have pictures of her Malibu home removed from an estate agent's website.
Source: www.msn.com
Added automatically
710 views