News
Green Day to release documentary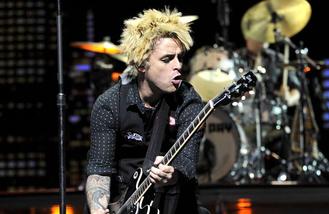 Green Day is set to release a documentary.
The rock band - consisting of Billie Joe Armstrong, Mike Dirnt, Jason White and Tre Cool - has created a behind-the-scenes look at the making of its 2004 album 'American Idiot'.
A statement on the band's website reads: "This film does not contain high drama or fighting. It shows a band on top of their game creating incredible music. It is a film that inspires. It is also a very small film."
The movie, named 'Heart Like a Hand Grenade', has been directed by John Rocker, who spent nine months recording the band members while they made the comeback album.
'Heart Like a Hand Grenade' will also feature a never-seen-before concert after Rocker was let loose with his camera while the band performed the album tracks in a theatre.
He added: "After the recording was finished they booked a small theatre and performed the album in its entirety, which is included in the film (Fun fact! This was 11 years ago folks and the camera phone was not invented so this is the only way you can see this legendary concert!) This movie is like a fly-on-the-wall art house piece. It is the first time Green Day allowed someone into the studio to film them."
Meanwhile, earlier this year, frontman Billie revealed plans for a new album after the group were inducted into the Rock and Roll Hall of Fame by Fall Out Boy.
'Heart Like a Hand Grenade' is set for release on October 15, 2015.
Source: www.msn.com
Added automatically
609 views