News
Ariana Grande: 'Yes, I'm dating Mac Miller'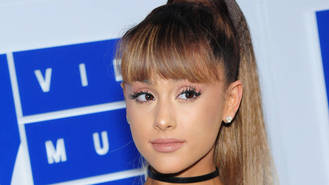 Ariana Grande has confirmed she's dating rapper Mac Miller.
A day after he revealed the couple's friendship turned romantic while he and Ariana were recording new music together, she has opened up about the relationship.
Asked point blank if the reports are true during an appearance on The Ellen DeGeneres Show, which airs on Wednesday (14Sep16), the shy Side to Side singer said, "This is so crazy. I've never had the relationship talk on a show before... Yes."
Dating rumours began after Grande introduced Mac during her headlining set at Billboard's Hot 100 Music Festival last month (Aug16) and they were spotted together at the 2016 MTV Video Music Awards days later.
The pair collaborated on Grande's 2013 The Way and more recently on Miller's new track My Favorite Part, which he recently revealed was not a project he considered his now-girlfriend for.
"I wrote that love song before I saw her," he told People. "We're very good friends first and foremost. We made that song and started becoming close again. It's very dope and I like how that worked out."
Meanwhile, Grande revealed she's proud of her out-of-breath bicycle work-out performance at the MTV VMAs, when she and Nicki Minaj performed Side to Side for the first time - because at least it proved she was singing live.
"It was definitely tiring, but I was like, 'You know what, it's worth it, I need to be on a bike'," she added, "so I committed to it, stuck with it."
The song and promo also feature Nicki Minaj, who Ariana likes to listen to when she's working out for real.
"I had the idea of the bike thing the first time I heard Nicki's verse," she explained.
Source: www.msn.com
Added automatically
581 views