News
Rami Malek to portray Freddie Mercury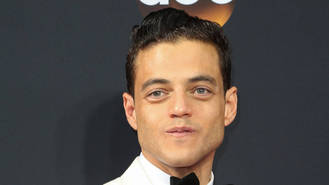 Mr. Robot star Rami Malek has been cast as Freddie Mercury in X-Men director Bryan Singer's new biopic.
The actor will portray the late Queen singer in Bohemian Rhapsody, which has been in development for years.
Singer made the announcement on Instagram on Friday (04Nov16).
Emmy Award-winner Malek replaces funnyman Sacha Baron Cohen, who had previously been attached to the project.
In a radio interview with Howard Stern earlier this year (16), Sacha revealed he dropped out of the biopic over disagreements with Mercury's Queen bandmates over how the film should portray the more salacious aspects of the late singer's life.
The Borat star told Stern he wanted to tell the iconic singer's full story - parties, drugs, sex and all.
"There are amazing stories about Freddie Mercury," he said. "The guy was wild. I mean he was living an extreme lifestyle. There are stories of... little people with plates with cocaine on their heads walking around a party."
But the surviving members of Queen wanted a more cautious version of the film, portraying the band's legacy.
Sacha added, "A member of the band, I won't say who, said, 'This is such a great movie because it's got such an amazing thing that happens in the middle of the movie'. I go, 'What happens in the middle of the movie?' He goes, 'Freddie dies!'"
The funnyman was so committed to the project at one point, he recruited award-winning The Queen screenwriter Peter Morgan and directors David Fincher and Tom Hooper - but the band weren't happy with the choices.
"At the end of the day, it really was an artistic difference," Sacha said, adding, "Brian May is an amazing musician, but he's not a great movie producer."
May previously revealed he and bandmate Roger Taylor felt Cohen's portrayal would be "very distracting".
May and Taylor have not commented about Malek's casting.
Mercury died in 1991 from complications due to AIDS. He was 45.
Source: www.msn.com
Added automatically
708 views