News
Metallica throw away unwanted guitar riffs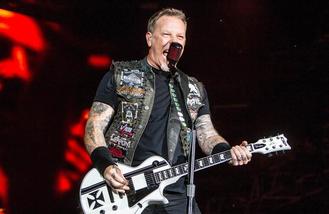 Metallica threw away any unwanted guitar riffs after making their current album 'Hardwired... to Self-Destruct'.
The 'Enter Sandman' hitmakers will have to start from scratch when they start working on their next album as frontman James Hetfield, 58, has revealed they won't touch music made in the studio on previous records.
He told La Viola: "Once an album is finished the box of riffs is thrown away. We use the best.
"There's no reason to save it if it's not good - we'll write new stuff. I'm very interested moving forward."
Meanwhile, James recently revealed the band plan on touring for at least the next two years in support of their 10th studio album.
He said: "We've booked out two years. So I can't predict the future, but we start there and hopefully there's more than that."
And fans may not have to wait as long for a new LP from the heavy metallers as James said he is already dying to get into the studio again and doesn't want to wait as long to put out new songs.
He said: "I would like to make some new music sooner thank eight years, for sure.
"There's such a pleasure and a joy of hearing your new music and having other people hear it. So I don't wanna wait that long."
It's taken the band - also comprised of Lars Ulrich, Kirk Hammett and Robert Trujillo - eight years to pen this release and, although James and Lars are the founding members of the group, bassist Robert, 52, was also allowed to give his two cents this time round.
Robert recently said: "At the end of the day, it's their baby but I was there for the conception."
Asked why it's taken them so long to drop a new LP, James - whose band has toured every year since 2011 - joked: "We had a lot of laundry to do after our last tour."
Metallica remain the biggest metal act on the planet - with more than one billion streams on the digital music service Spotify - and they're very much aware of that.
Asked who their biggest fans are, James said: "We are our biggest fans, and Lars is the biggest fan of all of us. His entire house is full with Metallica merchandise."
Source: www.msn.com
Added automatically
709 views