News
Motley Crüe support band attempt to sue for $30 million after urine prank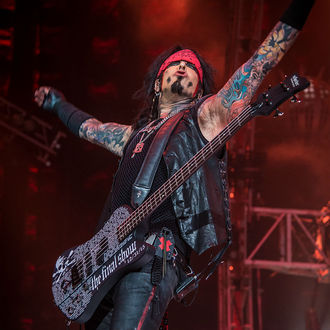 The Raskins, a a band who supported Motley Crüe on a US tour in 2014 are suing them for $30 million.
New York-based band, who paid $1 million to be on the tour with the hair-metallers, reportedly filed a lawsuit at Manhattan Supreme Court saying they were treated terribly.
One notable incident happened Darien, Connecticut, where members of Motley Crüe's road crew supposedly ran out on stage in monkey masks and sprayed The Raskins "with water guns filled with urine."
The New York Post reports that The Raskins put up with months of similar pranks. But were also forced to play short sets in frequently empty venues as tour managers refused to open doors in time. They also claim PA systems were turned off or interfered with during their sets and that they were denied the right to sell merchandise or to use dressing rooms. It is also claimed that The Raskins – made up of brothers Logan and Roger Raskin weren't allowed to sell merchandise or give them dressing rooms; and they were hit with heavy equipment.
Their lawsuit names Motley Crue as well Tenth Street Entertainment, AGI, and other production companies.
The New York post attempted to contact the defendants for comments but are yet to hear back. 
Elsewhere, it was reported in July this year that Motley Crüe's Vince Neil has been charged with misdemeanour battery after attacking a female autograph hunter in Las Vegas back in April.
The frontman was allegedly at a Las Vegas Strip resort when he grabbed the hair of a woman who had been pursuing him for his autograph and pulled her to the ground. As Billboard reports, he had to be physically restrained by the actor Nicolas Cage.
Video of the aftermath, though not of the actual incident, is available on TMZ. He has now been charged with misdemeanour battery over the incident, and pleaseded guilty and received 6 months probation and a $1,000 fine — pretty meager stuff.
Motley Crüe ended their 35 year career back in January with a concert in Los Angeles.
Source: www.msn.com
Added automatically
727 views