News
Miley Cyrus supports Dolly Parton's charity push to help fire hit families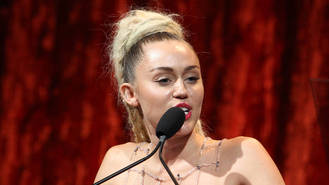 Miley Cyrus is teaming up with her godmother Dolly Parton to help those affected by the recent fires in Tennessee.
Dolly launched the My People Fund through her Dollywood Foundation earlier this week (ends02Dec16), and now Miley has announced she'll be supporting the initiative via her Happy Hippie Foundation.
"So proud that @happyhippiefdn is supporting the My People Fund, set up by my fairy godmother @dollyparton to help families in Tennessee who have lost their homes in this week's fire," Miley wrote on Instagram on Friday (02Dec16).
"As a fellow Tennessee native and someone who's passionate about tackling homelessness, my heart goes out to all the victims."
Dolly's Dollywood theme park re-opened for business on Friday after the nearby wildfires forced the singer and her partners to shut it down after the city of Gatlinburg and areas of Pigeon Forge, where Dollywood is located, were engulfed in thick smoke on Monday night (28Nov16), as the fires spread from the Great Smoky Mountains National Park, prompting local officials to enforce mandatory evacuations.
The Dollywood Smoky Mountain Cabins were among the locations cleared under the order, but firefighters were able keep the blaze from spreading to the park itself.
Dolly released a statement after learning the the blaze had destroyed homes in the area, writing: "I have been watching the terrible fires in the Great Smoky Mountains and I am heartbroken. I am praying for all the families affected by the fire and the firefighters who are working so hard to keep everyone safe."
Parton filmed a warning video for the United States Forest Service, National Park Service, and other federal and state agencies just before the fire drama, urging people to avoid burning leaves and starting campfires, and parking cars on dry grass. The 30-second footage, which also featured United States Forest Service mascot Smokey the Bear, was released on Sunday (27Nov16).
Source: www.msn.com
Added automatically
684 views