News
Alicia Keys thrilled by reaction to make-up free movement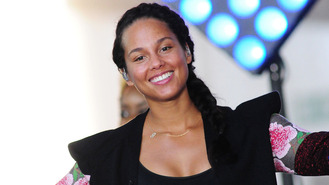 Alicia Keys is excited by the support she's received following her decision to ditch make-up.
After penning a powerful essay for Lenny Letter outlining the pressures women go through to look a certain way in May (16), the American singer-songwriter has appeared at a number of red carpet events with a fresh-faced appearance.
Speaking as part of the BBC's 100 Women 2016 series, Alicia revealed that she's very pleased to have sparked a dialogue on the topic, through various platforms, including #NoMakeup selfies on social media websites.
"I was a bit surprised at it but also in a good way," she shared. "I was glad that we were having this type of conversation."
Accordingly, the In Common singer is thrilled to see A-list names such as Kim Kardashian and Gabrielle Union try out the look. But she's also happy that the concept is inspiring the next generation too.
"I'm just one for variety, that's my thing. I just want myself and my daughter if I had one and my sons to see a variety of what people look like… We look a vast array of ways. It's really not about make-up or no make-up or anything like that. It's about what makes you comfortable. And it's about being able to explore versions of what makes you comfortable," she explained.
While Alicia is happy to see herself without make-up on and off the red carpet, it doesn't mean she has entirely ruled out artifice.
"When I want to wear make-up, then that's my choice. I can totally wear make-up and no one should be able to say, 'Didn't you say you are never going to wear it?' No, that's not what I was saying."
Source: www.msn.com
Added automatically
620 views