News
Carrie Fisher loves to listen to ex Paul Simon's mean songs about her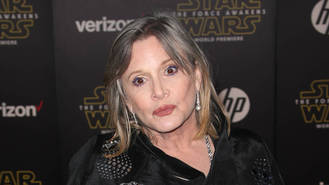 Star Wars icon Carrie Fisher is still fond of her ex-husband Paul Simon's music - especially the mean songs she inspired.
The actress was married to the Simon & Garfunkel star for a year in the early 1980s and admits she remembers her ex in his music, because they no longer talk to one another.
"I do like the songs he wrote about our relationship," she tells Rolling Stone magazine. "Even when he's insulting me, I like it very much. If you're gonna be insulted, that's the way to go.
"(His album) Graceland has part of us in it."
Asked by the publication why she felt the marriage didn't last, she reveals, "I'm not good at relationships. I'm not co-operative enough.
"I couldn't give him the peace that he needed... We had very interesting fights. It's a shame, because he and I were very good together in the ways that we were good.
"I don't talk to him now. I miss him, but I still have the best of him in his music."
Carrie also opened up about another relationship in her new book, The Princess Diarist, revealing rumours suggesting she romanced her married Star Wars co-star Harrison Ford while they were making the 1977 sci-fi blockbuster were all true.
The actress reveals she told Ford she was planning to reveal all about their affair in the tome and when she heard nothing back after she sent him a first draft, she opened up about the romance.
She now admits the big reveal has made her awkward relationship with Harrison even more difficult, adding, "It's just some big overgrown cat out of a bag that could have stayed closed. To this day, I feel nervous around Harrison. He doesn't engender relaxation."
Source: www.msn.com
Added automatically
670 views