News
Justin Timberlake shocks Australian students with surprise music masterclass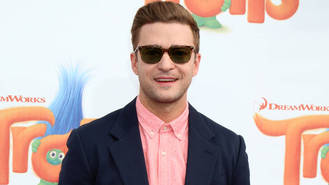 Justin Timberlake gave Australian school students a surprise when he turned up unannounced to give a music masterclass.
The Can't Stop the Feeling! singer spent time in Australia last month (Nov16) to promote his new animated movie Trolls and during time off from his press tour, he paid a visit to the Newtown High School of the Performing Arts in Sydney.
Video footage posted on Justin's Facebook page shows the students' shock when their teachers reveal the masterclass would be hosted by Justin, who sat on the floor with them, listened to their original music and gave them feedback.
To one student Fergus Lipton, who performed his track Snow with an acoustic guitar, Justin said, "Wow... that was awesome, like truly awesome. That was beautiful, man and your voice is really special... I'd put that on the radio now."
"Justin said he would like to put (my song) on the radio which was a big compliment," student Fergus Lupton said on Australia's Today show. "He was so genuine. Justin got into how much he like the lyrics and vulnerability is really important in music."
At the end of the session, Justin advised the students to "stay curious" and remember how it feels to make music. He concluded by saying, "You guys are really special, this was awesome for me. This was a real treat to get to hear you guys and see you guys, so thank you."
Head of Music Christopher Miller told the Today show he was in disbelief when Justin reached out to him about the masterclass, adding he was "really blown away" by the singer's sincerity.
"He built an instant rapport with the students," he said. "Everything he said was genuine and really positive."
Source: www.msn.com
Added automatically
651 views