News
Matt Willis won't bring kids on Busted's tour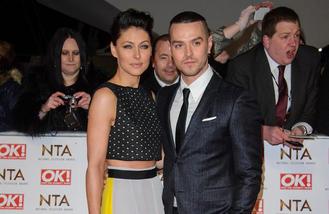 Matt Willis won't be bringing his kids on Busted's forthcoming 'Night Driver Tour'.
The 33-year-old rocker would love to bring his two older children, five-year-old son Ace and seven-year-old daughter Isabelle, on the road with the the pop rock trio, but doesn't want to get into trouble with their schools, and he won't be taking his and wife Emma Willis' eight-month-old daughter Trixie Grace because she's not old enough to attend shows yet.
Speaking exclusively to BANG Showbiz, he said: "No she is too young. My other kid's are at school so it is a ball ache. The teachers get their arse up if you take them out of school.
"I would I would take them everywhere with me, but apparently you are not allowed to do that you get into trouble."
The 'On What You're On' hitmaker - who is joined by Charlie Simpson and James Bourne in the group - admits that being a touring rock band is the best job in the world, but being away from his three little ones is the hardest part.
He confessed: "It's the only downside of being in a band. Being in a band is so f***ing awesome. I'd prefer to be in a band than do anything else."
And Matt - who had a stint in rehab to be treated for alcoholism in 2005 following Busted's break-up - says he is much more focused on putting on a stellar show now he no longer drinks booze and says he and his band mates still have a blast without getting "wasted".
He said; "For me, went I am on tour I wake up in the morning prepare for that hour and a half on stage. I get myself prepare to do that.
"Where as before I would wake up at 4pm and stumble on the bus and turn up at the venue and do the gig and go and get wrecked and it is not really like that anymore.
"It's still fun, we still have a laugh.
"We are not boring d***s who just go and drink herbal tea and play Scrabble."
Busted's album 'Night Driver' is out now and they kick off their tour on January 28 at Norwich UEA in East Anglia.
Source: www.msn.com
Added automatically
674 views