News
Lars Ulrich 'less and less' inspired by bands nowadays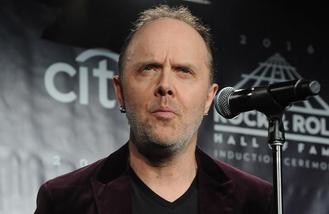 Lars Ulrich has been "less and less" inspired by other bands in the last three decades.
The Metallica drummer hasn't been a fan of many fellow rock bands since the likes of Nirvana, Guns N' Roses and Oasis, with only a hand few of bands having an "impact" on him.
The 53-year-old rocker is hoping to be "slapped in the face" and blown away by new emerging talent, although he is doubtful as it hasn't been happening for a long time.
In an interview with Noisey, he admitted: "10 years ago or 30 years ago, it was different.
"Like, 'Oh my god Guns N' Roses, oh my god who are these Nirvana guys! Oasis!'
"You were hearing about it, and you wanted to meet them.
"Nowadays, there aren't any bands that have had that impact on me.
"The last time where I was like, 'Holy f***! This really inspires me', was this band called Sword from Austin, Texas.
"Stoner rock, kind of a modern Black Sabbath.
"Super cool. They showed up seven or eight years ago, and I just had to bring these guys on tour. There is Norwegian band called Kvelertak These bands are few and far between nowadays.
"This is not a black and white statement. I know more about film than I do about music because I follow it more.
"That doesn't mean if something awesome came and slapped me in the face then I wouldn't embrace it, it just shows up less and less."
Metallica - also comprised of James Hetfield, Kirk Hammett and Robert Trujillo - are gearing up for their extensive world tour in support of their album 'Hardwired... To Self Destruct', which kicks off on January 20 in Hong Kong, China.
Lars has revealed the band have a "two-week rule" where they go home to seen their children every two weeks throughout the tour to keep them "sane".
The 'Nothing Else Matters' hitmaker - who has Bryce, nine, Layne, 15, and Myles, 18, from previous relationships - explained: "We have a two-week rule: we don't leave home for more two weeks at a time, 16 days at the most.
"We did 180 dates on the last album in two week increments.
"It's not the most cost effective way of touring the world, but we believe you can't put any price on sanity.
"If you remain somewhat sane, then there's a better chance of finishing all the shows and not jumping off the deep end in despair and misery."
Source: www.msn.com
Added automatically
660 views