News
Kesha and Dr. Luke file amended counterclaims against each other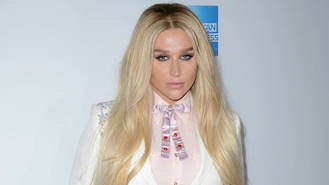 Singer Kesha has filed an amended counterclaim against Dr. Luke in their years-long abuse and contract lawsuit.
The Tik Tok singer and her former mentor have been engaged in a legal battle since 2014, after she accused him of verbally, sexually, and physically abusing her while she was signed to his Kemosabe Records label.
The parties recently agreed to a conference in a bid to settle the lawsuit, but on Monday (30Jan17), both sides requested permission to file counterclaims against each other.
In Kesha's new claim, the singer is attempting to make a case to be released from her contract after a judge denied a motion for an injunction.
"You can get a divorce from an abusive spouse," her new countersuit reads. "You can dissolve a partnership if the relationship becomes irreconcilable. The same opportunity - to be liberated from the physical, emotional, and financial bondage of a destructive relationship - should be available to a recording artist.
"After a February 19, 2016 preliminary injunction hearing, Kesha Rose Sebert is, for the time being, no longer forced to record in the same room with Lukasz 'Dr. Luke' Gottwald, the abusive music producer who has had her under contract for the past eleven years. But allowing Kesha to make music outside Dr. Luke's presence does not free her from her abuser's control."
According to the legal papers, Kesha has recorded new music, but none of the songs have been approved and no release date has been set. She claims Dr. Luke is punishing her for speaking out, and holding back money she insists is owed to her.
"It was not until Kesha's counsel recently threatened further legal action that Dr. Luke released certain funds owed to Kesha in December 2016, two years after they were due," the legal files continue. "Still, he has not paid her all of the amounts owed. Dr. Luke has similarly worked to deprive Kesha of royalties from Timber, the... hit that she recorded and co-wrote with Pitbull."
Dr. Luke is also on the attack, accusing Kesha of failing to fulfil her contractual obligations and "embarking on a conscious and coordinated effort to blacklist" him. He also claims her legal team's public statements are defamatory and her lawyers are lying about a double rape incident.
"On February 26, 2016 - one week after losing her motion for preliminary injunction - Kesha initiated a text message conversation with Stefani Germanotta, the recording artist who is professionally known as Lady Gaga," his amended complaint reads. "During this text message conversation, Kesha falsely and baselessly asserted that Kesha and another female recording artist had both been raped by Gottwald. Specifically, Kesha told Lady Gaga that she (i.e., the Other Recording Artist) was raped by the same man as Kesha. The man to whom Kesha referred was Gottwald - as the surrounding context of the text message makes clear.
"Kesha's assertions to Lady Gaga were completely false. Gottwald did not rape Kesha, and he did not rape the Other Recording Artist."
Both parties are scheduled to be disposed in the near future.
Source: www.msn.com
Added automatically
903 views