News
Prince associates denied estate advisory role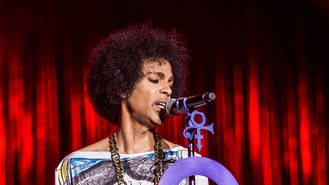 A Minnesota judge has ruled against appointing an adviser to help Prince's heirs in dealings with the managers of his estate.
Broadcaster and activist Anthony 'Van' Jones and Prince's lawyer L. Londell McMillan had both applied for the role, citing their close relationships with the late Purple Rain singer.
However in a court order, Carver County District Judge Kevin Eide ruled that neither man would act for those with a claim to the musician's estimated $200 million (£159 million) estate, as his prospective heirs could not agree on a preferred candidate.
According to Billboard magazine, in his ruling the judge wrote that appointing Jones or McMillan "adding another divisive element" to proceedings which would only cause delay.
Eide also ruled that responsibility for managing the estate should be transferred from wealth management firm the Bremer Trust, who acted as temporary administrator, to Comerica Bank and Trust.
Noting that Prince's estate had been in "disarray" and that Bremer Trust executives had to cope with numerous heirship claims and a criminal investigation into the singer's death aged 57 from a drugs overdose, the judge wrote he hoped communication between all parties would improve now some of the legal wrangles surrounding the estate had been resolved.
As of last month (Dec16) legal issues including establishing legitimacy of the alleged heirs and turning Prince's Minnesota mansion Paisley Park into a museum for fans had cost the executors $2.3 million (£1.8 million) in legal fees.
Bosses at Comerica will assume their duties managing the musician's estate from 1 February (17).
Prince's sister Tyka Nelson and his five half-siblings are believed to be his likely heirs.
Source: www.msn.com
Added automatically
650 views