News
Casino bosses battle to sign Adele to money-spinning Las Vegas residency - report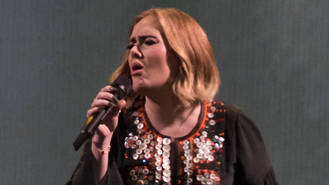 Adele has reportedly been offered more than $500,000 (£400,000)-a-night to sign a residency deal in Las Vegas.
Bosses at Sin City's biggest casinos are believed to be desperate to land the star's signature, despite her stated plan to take a break from music after completing 16 months of touring in July (17).
"It is all-out war in Las Vegas for Adele's signature," an unnamed casino chief told Britain's Daily Star newspaper. "In a city that prides itself on high stakes gambling, three major casinos are rolling the dice to persuade Adele to perform at their resorts."
Editors at the paper report the deals she could be offered could earn her as much as $500,000 (£400,000)-a-night, with accommodation in a luxurious penthouse suite also thrown in as part of a deal that could be one of Vegas' biggest ever.
A source told the news outlet that executives at the MGM Resorts had been "aggressive" in pursuing the Hello singer, 28, as they wanted her to be the first long-term resident at their new T-Mobile Arena.
The 20,000 capacity venue, next to the MGM Grand Las Vegas hotel and casino opened last year (16).
Casino bosses attempting to woo Adele may be disappointed however, as she has repeatedly said that she will take a lengthy break from touring to focus on bringing up her four-year-old son Angelo.
At her final concert of 2016 in Phoenix, Arizona, she told fans she was also planning to become a mother for the second time saying, "I'm going to go and have a baby".
However an insider told the Star the sums reportedly being offered to her were so huge they would be difficult to turn down.
"Even though Adele has made over £100million from her tour, this monetary deal could tempt her," the insider said.
Source: www.msn.com
Added by AutoAdmin
265 views