News
Fifth Harmony's Lauren Jauregui pens powerful anti-Trump letter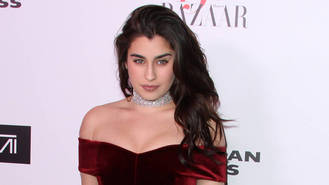 Fifth Harmony's Lauren Jauregui has written a powerful open letter in protest of U.S. leader Donald Trump's immigration ban.
Lauren's well-written piece, published on Monday (30Jan17) in People magazine, features her thoughts on the controversial executive order President Trump signed on Friday (27Jan17), which closes America's borders to travellers and refugees from seven Middle East countries for 90 days.
She also offers up a U.S. history lesson, explaining that everyone in the country, bar Native Americans, is an immigrant.
Her letter reads in part: "This country was built and continues to survive off the backs of immigrants and refugees. The term refugee in itself is such a significant word. These people are not terrorists: Many are escaping wars that we created in their lands.
"To tell another human being that the disastrous tortures of war are not important and to then go even a step further and insult their plight for freedom by labeling them 'terrorists' is just disrespectful to humanity. The only terrorism that both history and I have experienced has been at the hands of powerful White men who are willing to systematically kill and conquer without an ounce of empathy for anything but their pockets."
The Cuban-American All In My Head hitmaker is no stranger to standing up for issues she cares about - last year (16) she came out as bisexual, sharing her news via another lengthy letter posted on Billboard.com.
In her current statement, she also urges all Americans to stand up and express their objections to Trump's policies, just as so many activists did at airports over the weekend (28-29Jan17), and the weekend before that as part of the Women's March movement.
"If you are going to these protests, if you need health insurance for yourself or a sick loved one, if you are a woman, if you are a person of color, if you are disabled, if you practice any sort of religion, if you care about the air you breathe and the water you drink, if you showed up to that women's march in whatever city or state or country or town you came from, you need to fight back.
"We need to come together and let this administration know that we are not going to stand for another Nazi Germany or Stalin Russia or Mao Zedong China. The list is endless in the course of history, and it all happens the exact same way. The phrase history repeats itself is not a cliche for free."
Source: www.msn.com
Added automatically
644 views