News
Ozzy Osbourne: 'Lemmy is watching over me'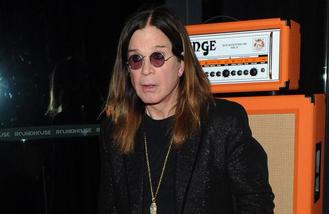 Ozzy Osbourne believes Lemmy Kilmister is watching over him.
The Motörhead singer and bassist - who tragically died in December 2015 only two days after finding out he had an "extremely aggressive cancer" - was a close friend of the Black Sabbath star and Ozzy believes Lemmy is keeping him safe.
He told The Times: "I reckon it's Lemmy. Lemmy was a good friend mine. He always used to say he thought I'd die first. Of course I feel lucky that I didn't. I phoned him half an hour before he went and I knew there was something not right. Me and Sharon drove over, but was gone."
Ozzy, 68, is also extremely proud of Black Sabbath's success and has praised the band for making it on their own.
He said: I am prouder of that than anything. We were working-class kids with f***-all, not even a full set of fingers. [Guitarist Tony Iommi lost the tips of his fingers in an accident at a sheet metal factory]. We weren't put together by a bloke smoking a cigar in London. I had to make it or end up dead."
Meanwhile, Black Sabbath keyboardist Geoff Nicholls passed away over the weekend and both Ozzy and Tony paid tribute to him.
Ozzy tweeted: "Geoff Nicholls was a great friend of mine for a long time. He will be greatly missed. I'm very saddened at the news."
In an emotional Facebook post, Tony wrote: "I'm so saddened to hear the loss of one of my dearest and closest friends Geoff Nicholls. He's been suffering for a while now with lung cancer and he lost his battle this morning.
"Geoff and I have always been very close and he has been a real true friend to me and supported me all the way for nearly 40 years. I will miss him dearly and he will live in my heart until we meet again. Rest In Peace my dear friend. Tony."
Source: www.msn.com
Added automatically
616 views